Now this is what I'm talking about!
Monday was looking like it had some good upslope possibilities for northeast Colorado and since my chase here panned out so well I was pretty excited. I'd decided tentatively on Cheyenne Wells for my target the night before but I was torn; the area around Bennett looked fairly promising too. I figured I'd decide in the morning.
I had to take care of some things first though.
Our lease is almost up for our apartment, and Heather and I are trying to find a place with more space. We've been looking at townhouses and rental homes, but keep running into scheduling problems to view the properties. I'd set up an appointment to view a house by myself (Heather had to work) at 10:00AM Monday morning, thinking I could chase right after.
I showed up at the house right on time and three other carloads of people were waiting to tour it as well. Hm. Looks like we'll need to be more aggressive in searching.
The house looked good and after taking a bunch of pictures to show Heather, I talked with the leasing rep. He was doing another house tour after this one and said I could come along if I wanted. That house was also on our list, so house chasing it is.
The second house led to a third house, so I went and toured that one too while keeping an eye on the time and on Radarscope. There was a line of thunderstorms moving east down from the Rockies and about to sweep over the Denver metro area.
After finishing, I went to get gas and head home to grab my equipment. I'd almost brought it with me that morning, but I knew I wanted to check models again before leaving. I got home around 11:30AM, just as it was starting to rain. It was getting late in the day, and I knew I needed to head out soon so I could get to a good position. But where to go?
I got on my PC. Pivotal Weather was apparently having some site issues, but after checking the College of DuPage's site, I decided that the network issues might be mine. Rather than waste time troubleshooting I decided to wing it. I'd head out to Limon and go from there.
The drive to Limon was rainy, but uneventful. It cleared up as I got into town and pulled into a McDonald's to stretch my legs and look at chase options There was a tiny but strong looking cell moving just east of Limon, but nothing else really going on in the area. I could see chasers dots lined up and down the road just south of Limon. I had no desire to join the pack so I decided to head southeast to Hugo, then south down County Road 109. I'd been through there just a couple weeks ago and I remembered the road was (mostly) paved and almost completely deserted. This would give me a viable north-south option as storms moved past, and I could always take CO-94 to Aroya (east) or Punkin Center (west) if needed.
I got to Hugo and checked Radarscope. There was a confirmed tornado near Trinidad. Damn, too far away. I also saw a line of thunderstorms to my south growing in strength and moving east near La Junta, but I had no stomach for chasing what looked like an MCS mess. I'd stick to my plan and only head further east if it became obvious that I needed to.
After missing my turn and having to turn around, I slowly headed south towards CO-94. I could see on radar that there was a severe thunderstorm approaching Colorado Springs from the southwest, and that it was rotating. It didn't look like much at the moment but I sped up anyway, thinking it might mature. I lost cell reception soon after which wasn't a big surprise, then got a message from Facebook which WAS a surprise. I took a quick look down at my phone, looked back up, and had to swerve to avoid a snake sunning itself on the road.
I missed it. I thought I missed it. Did I miss it? It gnawed on me a awhile longer, then I finally turned around and went back to look because I'm a big softie and I sort of wanted to take a picture of it if the snake was alright.
No snake to be found though. I missed it. Nevermind then.
I looked at my phone again but couldn't get a Radarscope update. I decided to just continue south until the road ended, then go east. As I got to Punkin Center, I passed a group of chasers stopped near an intersection and realized that I knew one of them. Sort of. Skip Talbot was leaning against his rental truck, having lost his minivan's transmission the week before in Montana.
I pulled over and jumped out to say hi, then decided I was parked too close to the stop sign and backed up a bit. I greeted Skip briefly, but he looked occupied and I decided that I didn't want to corner him so I mostly let him be. I did get to meet Skip's chase partner, Jennifer Brindley Ubl, whose storm photography Heather and I have admired. I also met three other chasers, two of them named Derek and whose last names escape me. 1I want to say that one of them was Derek Smith and that the third chaser was named Lori? Laurie? That sounds right. Chad Kiehn also pulled up to say hi. He had been the one to message on Facebook earlier, and had found me with Spotter Network via Radarscope.
After talking for awhile, we all started to head off on our various targets. I opted to head north and west towards the storm just clearing Colorado Springs and heading northeast. I figured I could head north back into Limon, then take CO-86 to the west and position myself just north of Simla.
As I reentered Limon I was already doubting my decision. My target storm was looking more and more outflow dominant on radar, while my other choice, the storm near Pueblo, was looking better and better. There was no way I could get back in time so I chose to keep going and hoped that I was wrong.
I wasn't. The storm was obviously on its way out as I got close to my chosen spot, and I stopped to let it pass by. It was a big mess of rain and hail and I wasn't about to jump into that.
I continued west, running into a large amount of hail on the road left in the wake of the storm. There was another group of storms heading out from Castle Rock that I thought had potential. I might be able to get to Kiowa, then use Kiowa-Bennett Road for an intercept. This was about as close to town as I wanted to get though.
A brief stop in Kiowa, then I bolted north before another series of hail laden storms moving in from the south could catch me. The sheer number of individual storms moving around me and on the horizon was amazing, and I stopped a couple of times to photograph them. Then I saw some interesting looking signs of rotation on one in particular and turned west on a dirt county road to intercept it.
Things looked promising. I continued west about five miles and stopped on the side of the road. The cloud base was churning and rotating in a way I recognized and I thought I saw a wall cloud forming. I watched it anxiously but it only lasted a couple of minutes. It was difficult to tell if it was rotating, so I didn't bother to report it.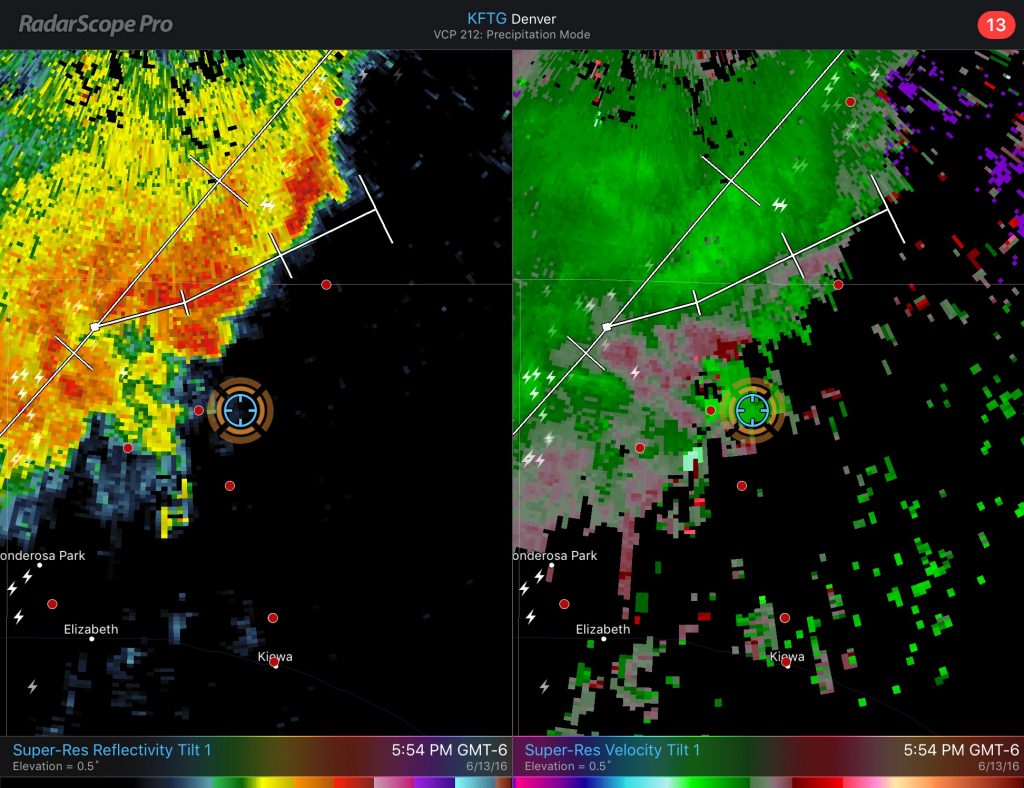 My radar updated and showed me that the storm was beginning to track more towards the east, right at me. I jumped in the car and backtracked, stopped a couple of times to take pictures, then hit Kiowa-Bennett Road again and took off to the north. There was a storm heading northeast of Bennett that showed some strong rotation and I thought I could get there in time.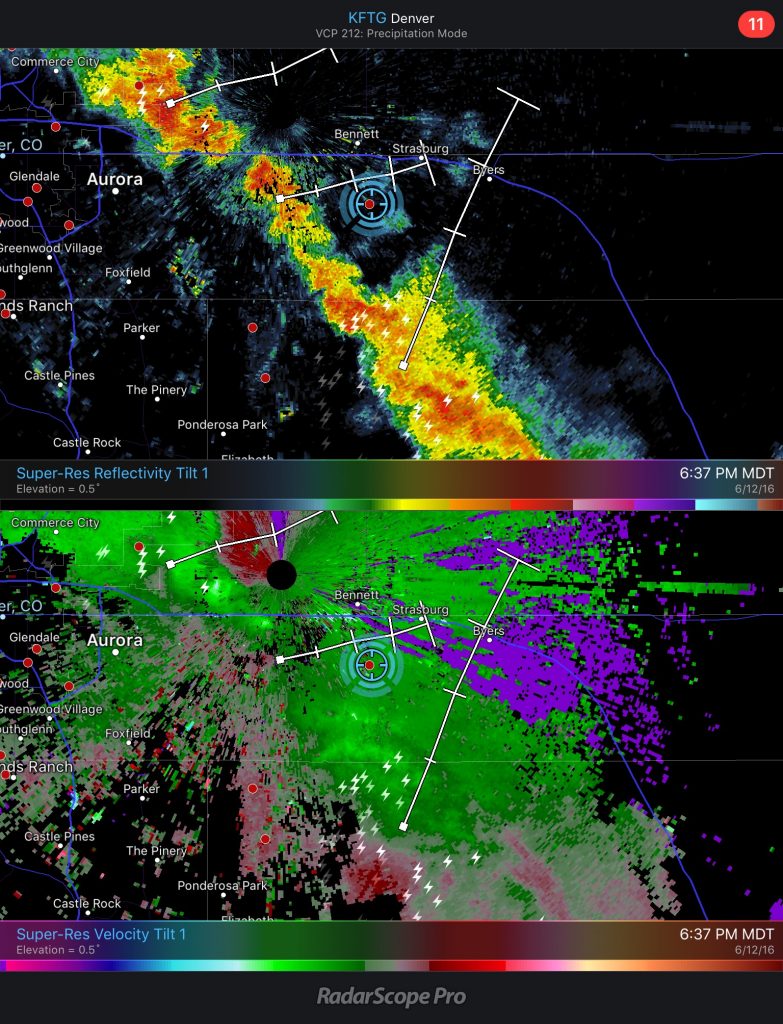 Some quick mental math told me I wouldn't make it. It was moving too fast and would be too far northeast once I got to Bennett. There was a good looking storm organizing to my south though, heading northeast. I thought I might have one more shot for today. So I took the county road grid east, stair stepping my way east and south to get into position with the oncoming supercell. I ended up about 15-20 miles south of Byers, at an L intersection and in the perfect location to watch the storm go by.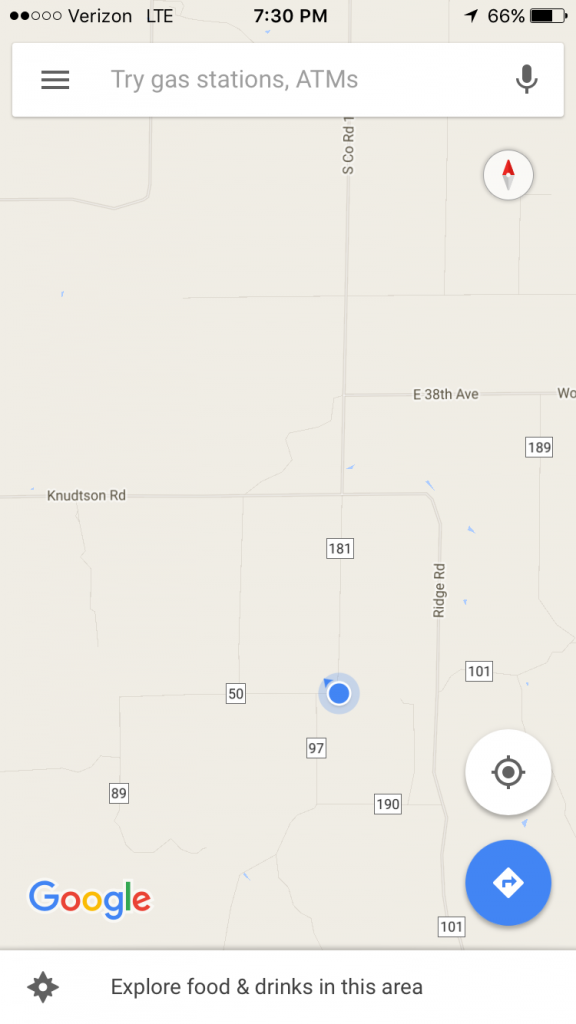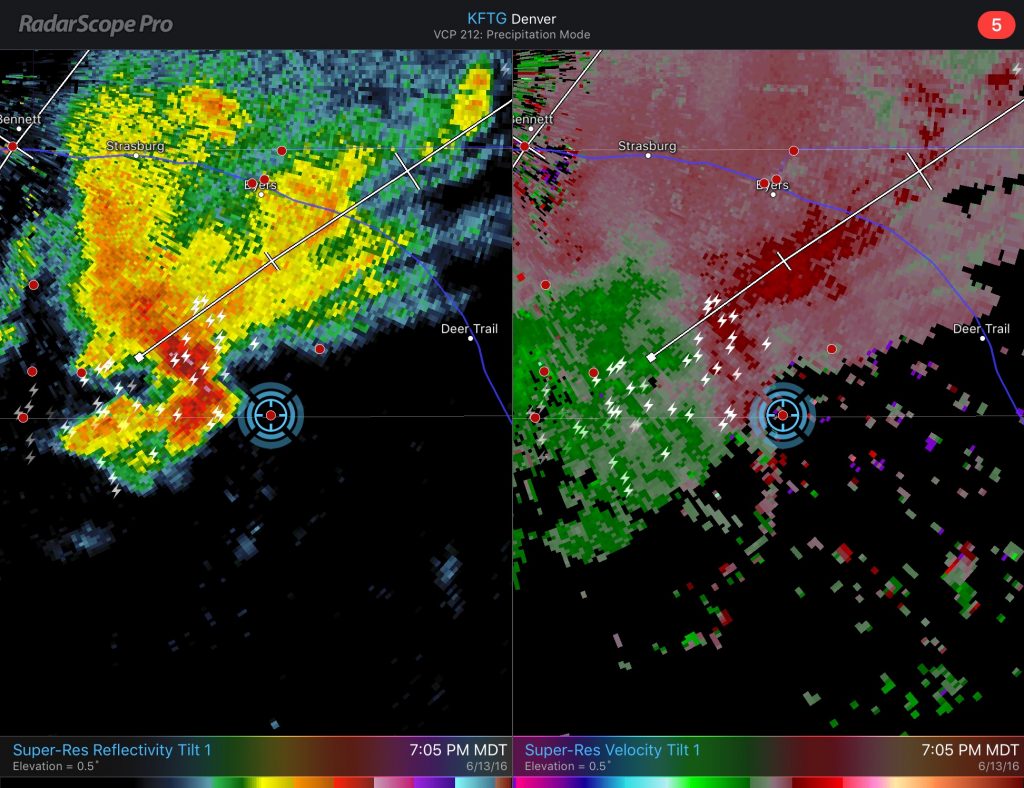 I parked the car to catch the precipitation core going by on dashcam, and set up off to the side of the road in a field tot take pictures.
Then I turned the car northward and filmed that as well. It was a great location.
It was beautiful and sort of peaceful being out there by myself. I'd tried out mosquito repellent #2 (see previous post) a little earlier and it was working wonderfully. I wasn't going to get a tornado today, but things felt righ-
*BUMP*
Something hit the back of my leg. I let out a small squawk and turned, looking down.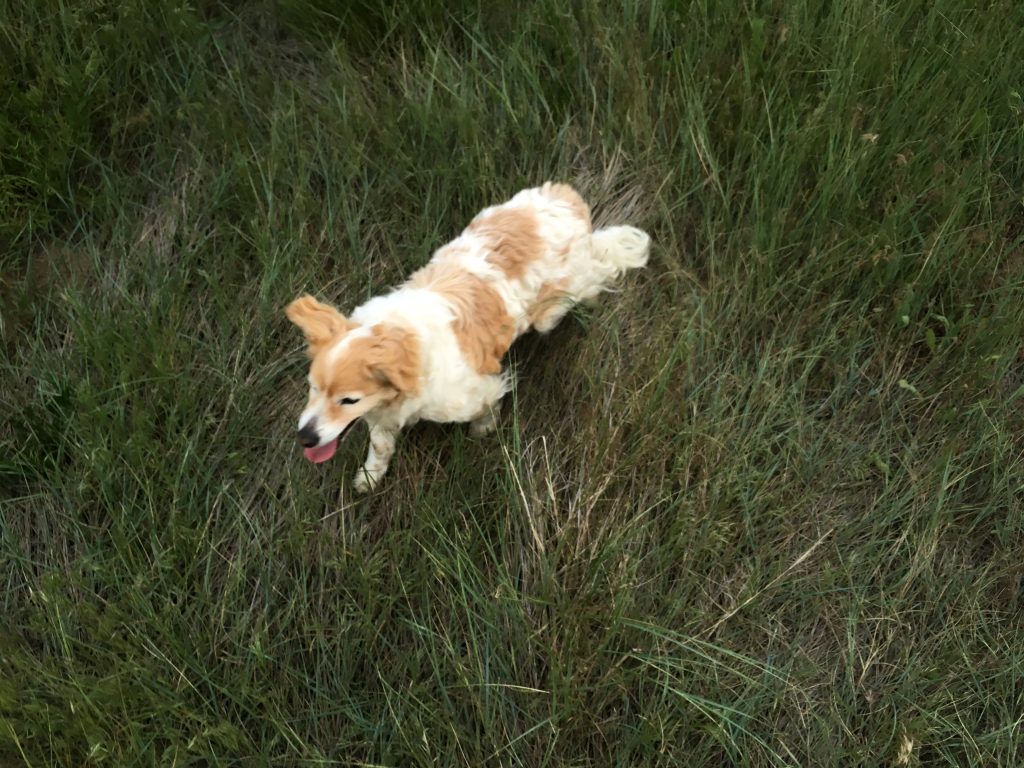 What the..? Where'd the dog come from? I was surrounded by fields and the nearest house I could remember passing was over a mile away. I could see farmhouses way across acres of fields to the east and south but I had no idea how to get over to them.
I had a new friend. She kept darting behind me so it was hard to catch her for a picture.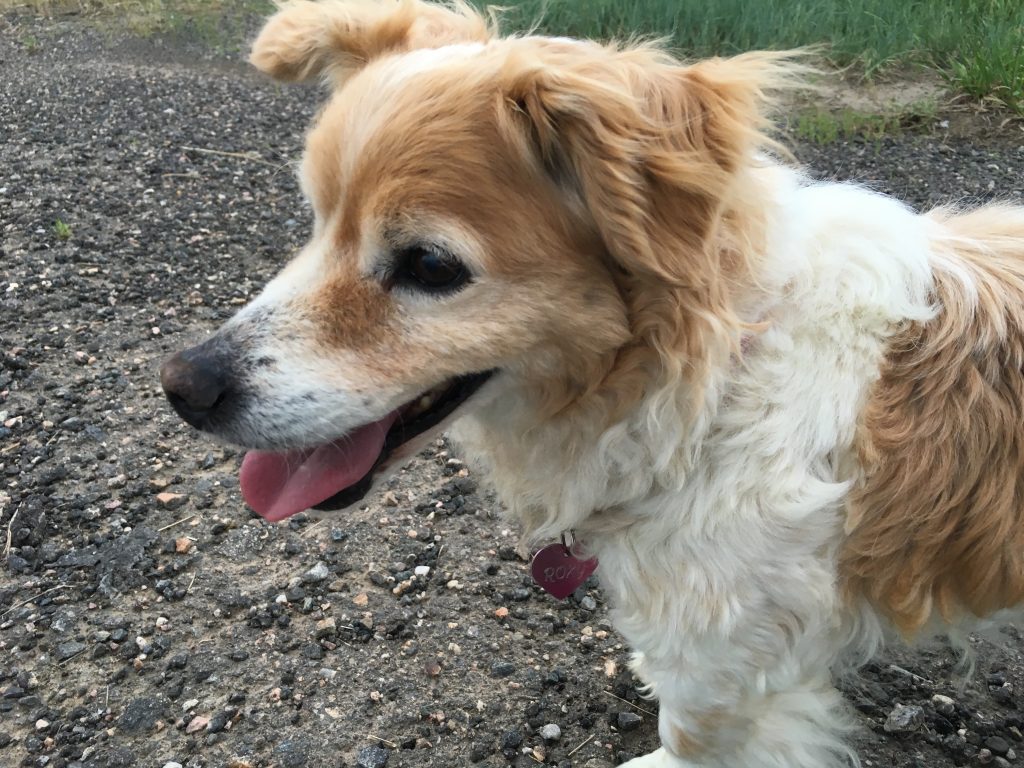 I noticed the collar. Roxy, it said, and included a phone number. Good! I called the number and it went to voicemail. I left a message explaining who I was, where I was, and what was going on.
I waited ten minutes and called back. Voicemail.
Then I called Heather and asked her to try. Voicemail.
I hunkered down 2I don't get to use the word hunker much. Fun! and Roxy collapsed onto my feet for a tummy rub. Sweet dog. She looked well fed, and I figured that the collar was a good sign that someone loves her. There was another line of storms approaching from the southwest and Radarscope showed them heading our way. they would hit a little after dark and I didn't want to leave her in an open field to experience that.
I decided to try and take her home. I'm such a sucker.
After waiting another 10 minutes for a call back, I decided to drive her to the group of three houses I passed on my way in. I walked to the car and opened the door. Roxy peered into the car with interest.
I put away all the electronics and draped a towel over the seat. Roxy looked on.
I patted the seat and told her to jump in. Roxy gave me an "Are you fucking serious?" look and sat down, watching me warily.
Fair enough. I scooped her up and plopped her into the passenger seat and quickly shut the door. Then I went around and got in myself. She looked at me with a face that shrieked "DOGNAPPER!".
Great.
I started to drive slowly down the road and she threw herself into my lap. Now I just felt like a big jerk. I silently hoped she wouldn't pee on me in retaliation.
Arriving at the first set of houses, I paused to consider. Two of the three looked dark and quiet like everyone had gone to bed. The last house had some lights and a TV on. I'd start there.
I opened my car door and two of the tiniest chihuahuas I've ever seen ran up and started yapping at me. This is why I like big dogs. Roxy jumped off my lap and they shut up and ran over to her. She wagged her tail. Good sign. I went to the front door and knocked.
No answer. I knocked again and waited, then started to leave and a guy came around the side of the house. I pointed at Roxy and asked him if that was his dog. He glanced at her and nodded absently, seeming confused at why I was asking such a dumb question. I told him where I'd found her and he looked back at me, surprised. He told me that he had last seen her in the barn asleep an hour before. His wife had apparently just decided not to answer the phone when Heather and I called. Oh. 😛
Still…right house, first try. I'll count this as a win. I was glad I didn't have to chauffeur Roxy around the boonies all night. We talked for a little while and then I said goodbye to Roxy and left, with a tiny dog entourage to walk me to my car. I drove down the road a bit, then parked and called Heather to update her. Then I waited for one last storm to pass me by and headed for home.
Lessons Learned
Have a better plan before leaving the house.
I need to get better at interpreting surface conditions. I'm adding a lot of unnecessary driving time and screwing myself out of opportunities.
Sometimes I get too distracted by other chasers and lose focus on why I'm out there. It's fun to meet chasers though.
Maybe I should consider a career with animals.