I really hate mosquitoes.
Tonight's plan was to head out near Deer Trail, CO and do some astrophotography. This is Heather's specialty and on past trips, I'm usually just the helper, or I go read in the car or something. 1Something usually ends up trying to convince Heather to take creepy night photos with long exposures and flashlights and stuff. It's fun! However tonight we were going to try out the new camera so I had something to do too. When we bought the camera we ordered an adapter that allows us to mount Canon lenses onto the Sony camera body. Heather has a great set of Rokinon lenses that she bought specifically for astrophotography so we could both try our luck. I was curious to see what I could get.
It was a stormy evening when we finally got ready and left. No stars for us. This changed the evening agenda into my specialty, which is chasing clouds around and hoping they do interesting things.
Heather was game. She really enjoyed the lightning photography we did a couple of days earlier. I have the Radarscope Pro subscription for my iPhone/iPad which can overlay lightning activity onto the map. That should help us with deciding what storms to pursue.
We left the city via Quincy Road, which I've found to be the fastest way to get out of town quickly. On the way, I reviewed storm options.
Storm #1 was about 20 miles northwest of us, heading east towards Bennett. It was a fully mature storm that looked to be a great catch. However it wasn't feasible to chase through Denver to intercept it, so I kept looking.
Storm #2 Was headed right for us out of the southwest but it looked pretty lame. No lightning activity. We went through it on the way out of town and it just rained on us.
Storm #3 Was a new cell showing some lightning activity. It was approaching us from the south. I thought this looked like our best bet.
We kept heading east and about halfway to Kiowa-Bennett Road I noticed that the southern storm had changed course and was moving rapidly away to the east. Heather kept commenting on the northern storm, now just going over Bennett. I checked its forward speed and saw that we could easily get to Bennett and then east, putting ourselves into a great spot near Strasberg.
Unfortunately, once we got to Bennett the storm was starting to weaken and slowly move off to the northeast. We raced past Bennett and got into a good position, northeast of Strasberg. I managed to get one poorly setup picture.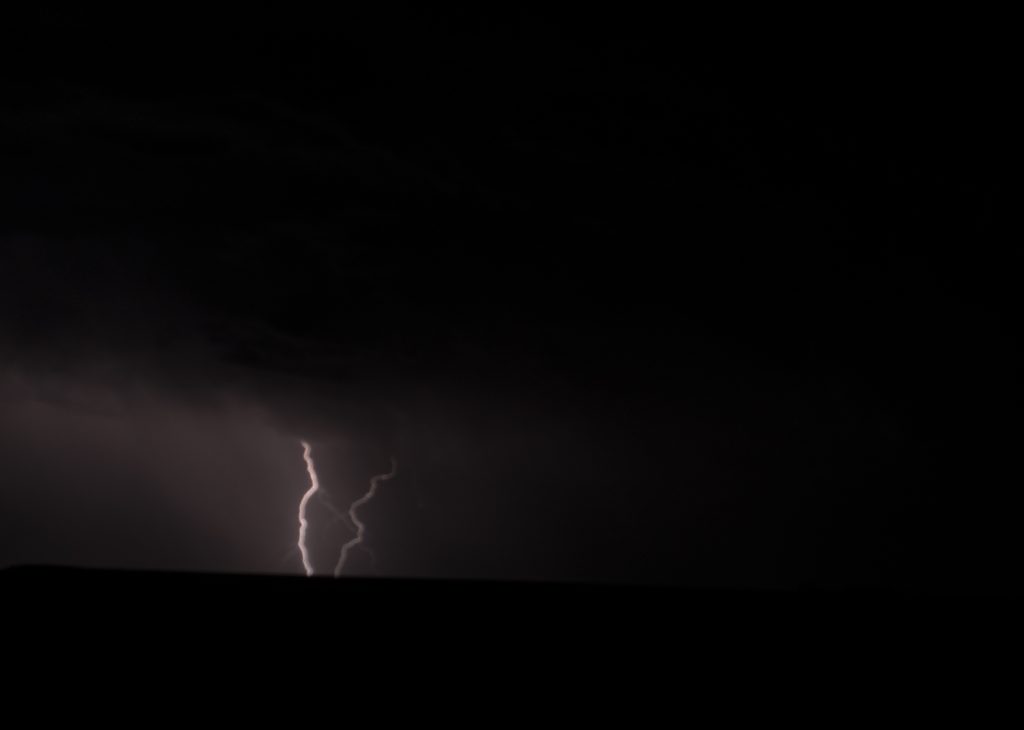 This is a pretty lame picture, but it's the only shot I got all night. Heather got a lot better shots of this storm.
Then what seemed like thousands of mosquitoes descended on us and we found out that we had made a big mistake.
When we'd stopped and unpacked our gear, we left a couple car doors open while we set up. Once we ran to the car to grab our insect repellent, we found out that the car already had dozens of mosquitoes buzzing around in it.
On top of that, a small storm moved in from the south minutes later and started dumping raining on us. I'd seen it heading in on radar so we had time to toss the cameras and tripods in the car and jump in while it passed overhead. We spent our time smashing mosquitoes on the windows, the car's headliner, and on us. 2Heather would randomly slap my legs or arm trying to kill mosquitoes while I was frantically trying to deal with others. I had to tell her to knock it off because she kept making me jump.
It was really unpleasant. The rain finally let up but the original storm we'd gone after was no longer viable. It was too far away and had no more cloud-to-ground lightning for us. Another storm formed just to our east right began to expand rapidly over us, which meant more rain. To add insult, it had some great lightning that we couldn't get out to photograph.
We continued to pass the time with mosquito genocide. The repellent we'd used didn't seem to help at all.
Checking Radarscope, I could see other storms starting to form to our south and move northeast. I decided we should move east again to Byers and camp out north of town. That way the new storms could mature and track directly in front of us.
It worked…for about ten minutes. More storms sprang up south of us and tracked due north right to us, blasting us with rain. We just couldn't get out of the car long enough to set up and take long exposure shots. If the rain didn't come, the mosquitoes made us miserable.
I was having another problem. My camera kept pausing for extended periods of time every time I took a photo. A message would display saying "Processing" and would keep me waiting for long periods of time while I missed a lot of lightning. Then I could finally take another shot and the delay would repeat.
It was maddening. I got demoralized quickly. I couldn't understand how the new Sony camera would have such an odd quirk and Heather's camera, easily three years older, could take shot after shot without pause. I began to doubt my decision to go with a mirrorless camera. Maybe I missed something? 3I did. It was operator error. The camera has an option, "Long Exposure NR", which is supposed to help with noise reduction when taking night shots. When you take a picture, it takes another nearly black picture of the same duration immediately after, which means all my 20 seconds shots took 40 seconds.
Additionally I hadn't been able to really sit down and learn the Time-Lapse application I downloaded onto the camera. This meant I had to take every shot by hand, which meant more mosquito exposure time. Heather had a programmable remote trigger so she would set up, focus to infinity, then start the timer and hide in the car.
In short, I was just unprepared. Astrophotography is mostly a small variation of this process so Heather was in her element. I decided to stop grumbling and be the helper again for the night.
The storms kept following us. We headed back west to Strasberg at one point but the storms kept initiating to our south and marching right over us. We couldn't stay outside longer than 5-10 minutes without having to pack up and move. The ongoing mosquito problem made every stop a gamble on how many we'd have to deal with for a couple of possible lightning pictures. We finally called it quits around midnight.
In spite of all this Heather got some amazing shots! So much so that I'm just going to link her blog page and let her finish the story.
TOMORROW: Lemon! Eucalyptus! Bad decisions!